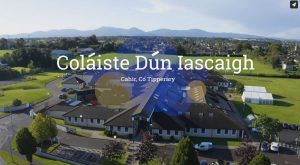 August 22 Return to School Information
Link to further Information from our Website
Principal Welcome:
Welcome to Coláiste Dún Iascaigh, a school with a distinctive culture of students learning together and supporting and encouraging each other to do their best. At our school, staff work collaboratively to develop a cohesive curriculum, support the health and wellbeing of students, and challenge our students to discover their potential.
As we enter the next phase in the journey of Coláiste Dún Iascaigh, we are developing an even stronger culture of learning and innovation and embarking on a new stage of renovations to provide the very best learning environment, facilities and resources for our amazing students.
Students are at the centre of our approach to teaching and learning and our decision-making and we hold high expectations of student learning, leadership, participation and behaviour.
At Coláiste Dún Iascaigh, we are committed to academic excellence and to the development of the whole person and we are proud to cultivate the diverse talents of our students. We offer a range of extra-curricular opportunities for students and plans are being laid to develop strong links with local sporting and cultural organisations.
Coláiste Dún Iascaigh is a vibrant place of learning and personal growth. We expect students to do their personal best, invest effort into their learning, and take up opportunities that arise to showcase their talents, explore their interests, and continually develop new knowledge and skills.
Coláiste Dún Iascaigh is a purpose-built, contemporary and modern learning environment. The school is set within wonderful, expansive and well-kept grounds with walkways and many playing pitches along with modern gym.
As principal, I am committed to leading Coláiste Dún Iascaigh to achieve even higher levels of student learning and wellbeing and to guiding staff, students and parents through our rapid growth in enrolments and size, and to working together with the community to ensure that we are providing the best possible educational opportunities for students.